suriNotes.com's

Chart Patterns & Algo. Trader (Weekly Magazine, November 30, 2020)

---

Auto Generated Chart Patterns/Analysis
Stocks/Futures/Commodities/FX
Daily/Weekly/Monthly Analysis
Watchlists
Algorithmic Trading Concepts/Analysis
Advanced Trading Ideas
Sectors & Indexes relative performances
Relative Strength Ranks
"There is nothing new on Wall Street or in stock speculation. What has happened in the past will happen again, and again, and again. This is because human nature does not change, and it is human emotion, solidly built into human nature, that always gets in the way of human intelligence. Of this I am sure. -- Jesse Livermore"

Trade Ideas (11/30/2020, Monday )

Archives
Collections of Trade Charts, Pattern Formations, Daily setups, Daily Ideas posted to Twitter or StockTwits. Posts are updated during intraday and end-of-day.
SALE 30% off Yearly Subscription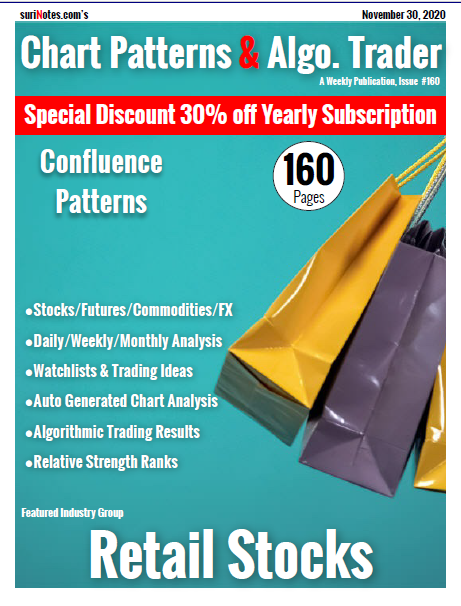 11/29/20 (10:37)

TLRY (ABC Bull)
11/29/20 (10:31)

NVAX (Parabolic Arc)
11/28/20 (10:08)

AIRLINES (ABC)
11/28/20 (10:06)

BANKS (ABC)
11/27/20 (18:58)

FB (Symm. Tri.)